Whisk Wiper: Slides Up Whisk To Clean The Loops
If you're not one that licks their whisk clean after making brownies, cookies, or cake, this whisk cleaner might be for you. Aptly named the Whisk Wiper, this plastic mold perfectly wipes your whisk clean after using it, and might just be the most satisfying item to use in your kitchen.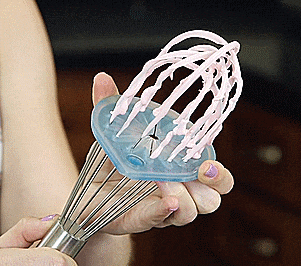 To use it, simply pace the Whisk Wiper onto your whisk before starting to use it, then once done, just slowly pull the whisk cleaner up and remove it from the whisk. The gooey goodness will slowly collect on the top of the cleaner, leaving you with a nice and clean whisk that you can simply throw in to the wash afterwards without needing to soak it. Plus, you can then scrape all of the food back into the bowl to make sure you get every last bit.
Not only great for wiping your whisk clean after using it, the whisk wiper also keeps your whisk off the counter by propping it up when you set it down, plus it will catch any drips that might fall down when pointing the whisk upright. The Whisk Wiper also allows you to rest the whisk on the edge of your mixing bowl or sink without it falling all the way in.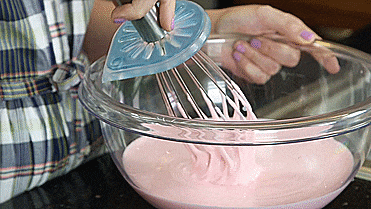 Once the whisk wiper is removed from your whisk, you can then use it to get every last bit of food out of the bowl using the rounded edges. The whisk wiper was even built with a 90 degree angle on it so that you can get even get the edges of bowls with sharper corners.
THE WHISK WIPER THAT STARTED IT ALL
Whisk has changed whisking forever. Now, cleaning a whisk is easy, mess-free, and it just feels right.
Clean it fast: wipe your whisk in just seconds.
Save the recipe: save all that food that would normally go to waste.
Keep the kitchen clean: mount your whisk on the bowl, counter, and standing up - Whisk Wiper® even catches drips.
It's a spatula too: unique design allows you to wipe out the bowl - even bowls with edges.
HOW TO USE
First, arrange the loops in a row, and then connect the wiper to the whisk. Flick. When you are ready, slowly take out the wiper and pour all the food into the bowl.
Check out the whisk cleaner in action via the video below:Click ok